the St. Louis Costumers Guild
Basically we're a regional chapter of the International Costumers' Guild, a worldwide educational organization of costume professionals and hobbyists whose aim is to:
"promote the educational, cultural, literary, artistic and theatrical advancement of costume design and construction and the influence of costume (clothing), fabrics, and design upon societies and cultures."
and:
"promote public goodwill towards the costuming community and to provide a public forum for the discussion of costume, clothing, and other related subjects through publications, conferences, and other special projects."
But that doesn't begin to describe "who" and "what" we really are.
We're as much a social organization and support group as we are a costuming guild. We're friends, co-conspirators, instructors, and everybody's cheering section. Not all of us make or even wear costumes, but we all appreciate the "artform" and goad each other into greater leaps and accomplishments whether on stage or off.
We come from all walks of life: programmers, students, artists, teachers, nurses, retirees, accountants, and retail clerks. Like ourselves, our costuming interests are varied and all-encompassing.
Half the fun of the SLCG is the exchange of ideas and information, and working together to learn new things and techniques as our projects go from idea to full-blown presentation.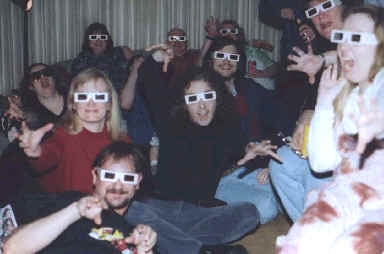 Yeah, we're scary... but fun!
Want to learn more about what, where, and how we do what we do?