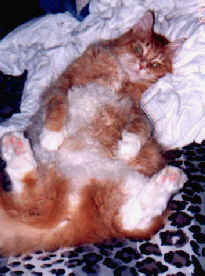 Purricoon's Rufus Maximillian
of Casa Mai
4/3/1993 - 9/13/2003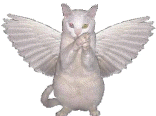 Earlier in 2003, we had a big scare -- Max had
developed a lump in his side and groin area. And he
was losing weight. He was diagnosed with cancer.
The tumor removed weighed 2 lbs., and his body
weight was down to 11 lbs. The vet thought they got it all,.
Unfortunately, it was not the case. It returned with a vengeance, and we had to set Max free the morning of 9/13/2003.

We love and miss our Baby terribly.

AKA: Purricoon's Rufus Maximillian, Stinkimus Maximus, Big Orange Thing, Stinky, Stinky D, Dink, Stink Bomb, Da Bomb, Big Orange Thing, Big Creature, Our Stinky Friend, etc.
Would you like to see more of Max?
More Loki pictures.
AKA: Monster!, Poot, Little Bear, Chunk,
Mister Schnuzzley, Freak, Mr. Underfoot,
Schnuzzlebeast, Mister Monster Man,
Square Bear, etc.