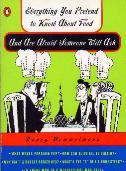 Everything You Pretend to Know About Food
(And are Afraid Someone Will Ask)
Nancy Rommelmann
a Penguin Book 1998
ISBN# 1-14-026373-X

"A culinary compendium to season your gastronomical wisdom along with your cuisine". A fairly useful book actually, it gives good solid answers to a lot of fashionable food questions. It also debunks myths, gives preparation and serving suggestions, and explains a lot of those obscure foodie terms. Enjoy!