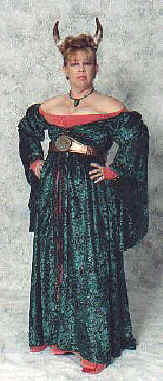 Taurus
(Italian Renaissance)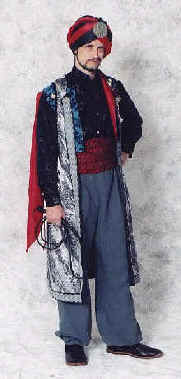 Scorpio
(Turkish/Armenian)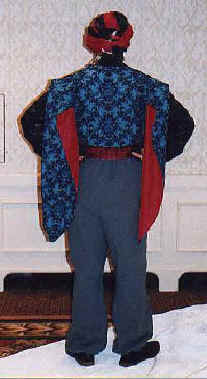 Scorpio
(Rear view without vest)
Nora had been wanting to do the Zodiac for some time. It caught the fancy of enough of our Guild member friends to put it together for Archon 23 in 1999. The concept was to create fantasy costumes based on various ethnic clothing around the world. She researched the colors that each costume would incorporate and in some cases made suggestions as to what country to draw inspiration from. We tried to have as many people as we could represent their own signs, but we had an overabundance of Cancers and none in others. The unifying element for everyone's costume were the clay medallions she made. These were incorporated somewhere on each person's costume.
This was a particularly challenging project because of the various experience levels of group. Some were very competent sewers, while others were creating their very first outfits. Nora had to make a costume for one person serving as a model. Getting everyone on stage in a timely fashion was another challenge, but we worked something out that looked really good on stage. We received a workmanship award for choreography(?) at Archon that year.
The next year, we competed the same presentation at Costume Con 18, 2000. Unfortunately, some of our people couldn't go, so we had to have some other costumers fill in. One outfit was sent along, Nora had to make one new , and two people created new interpretations for this second competition.
To see the rest of the group, have a look at Zodiac 2.